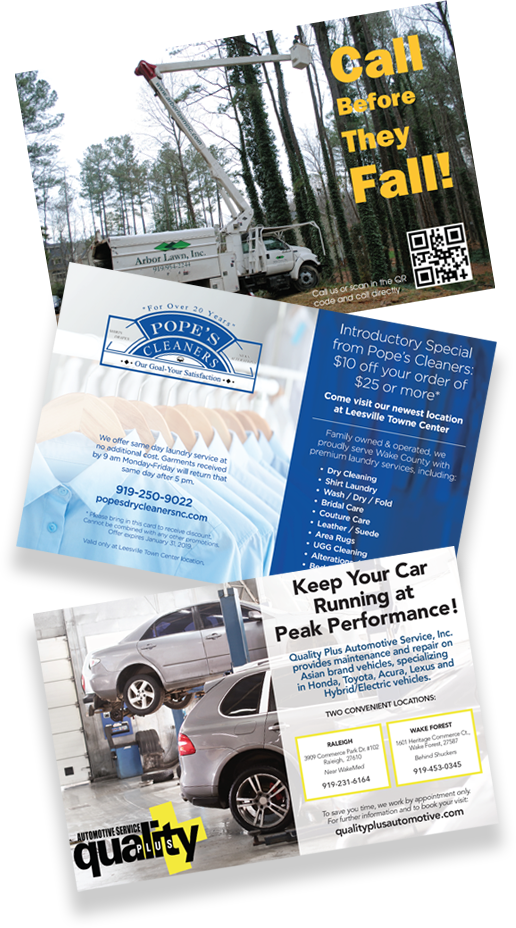 For our direct mail services we can coordinate your entire mailing from concept to mailbox including design, list purchasing, printing services and addressing the postcard. With internet marketing we offer a unique package that combines pay per click management and search engine optimization in order to generate quality leads for your business.
Direct mail marketing works for any organization that has a defined target audience that can be reached with an offer to respond.

Professional Services

Business-to-Business

Non-Profit
We take great pride in offering personal service to our clients. We are not a large corporation, but have the resources to handle
any size job. We have clients from across North Carolina and the country. In fact, we are an international business with clients and
vendors outside of the United States.
What Our Direct Mail Customers Say
Steven has been great to work with on our direct-mail marketing campaign. He took the time to listen and helped put together a piece that was exactly what we were looking for, and the communication and follow up since has been wonderful. Looking forward to working together on more projects.
Steve Rosenberg and his team have done our mailings for years. They are easy to work with, dependable, flexible and very reliable.
As a rabbi in a congregation that sends out multiple mailings each year, I have been extremely satisfied with the service that Steve has provided for us. We know that we can count on him to get the job done quickly and at a very reasonable price, as he's done time and time again.