Postcard Direct Mail Marketing
Effective direct mail marketing has three goals when the mailer hits a prospect's mailbox:
To be opened
To be read
To get the order
Direct mail postcards achieve the first two goals automatically. We know the fundamentals of direct mail marketing to make your direct mail campaign profitable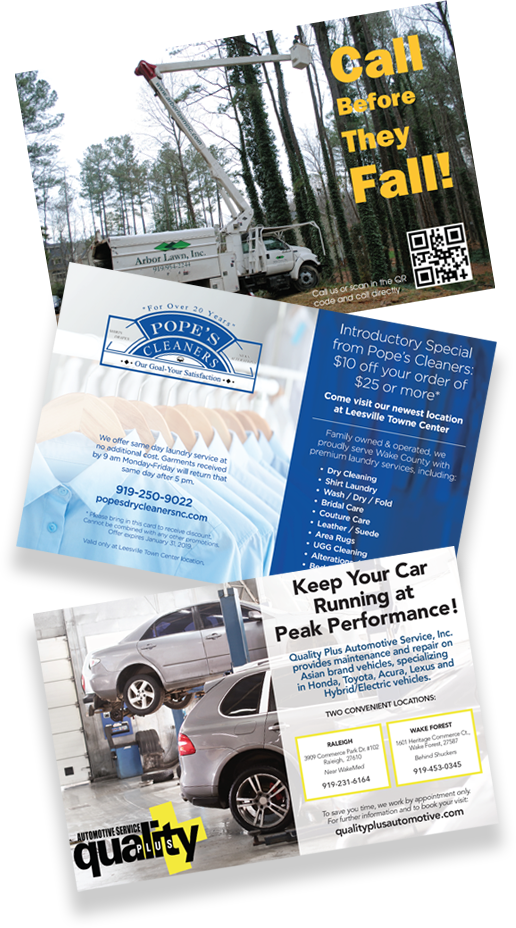 List, Offer, Timing, Creative Execution
Direct mail marketing comes down to four fundamentals — list, offer, timing and creative execution. The most important part of a direct mail campaign is the list. It accounts for about 40% of the success of your campaign, You can have the best creative and a great offer, but you still would not sell many lawnmowers in Manhattan. We have the expertise to find you the best possible mailing list for your project.
Offer is also critical. What incentive can you make to entice a prospect to buy your product or service? There are countless ways to make an offer and we have seen many in our years of operation.
Timing is important to some business and not others. You can't sell Christmas trees in July. On the other hand, other offerings are viable throughout the year.
Creative makes your postcard stand out in the "mail moment." That's the 3 seconds when your prospect takes the mail out of the mailbox and decides what to keep and what to discard. Our design colorful postcards uses compelling headlines and a call for action.
Hear From Our Direct Mail Clients
Steven has been great to work with on our direct-mail marketing campaign. He took the time to listen and helped put together a piece that was exactly what we were looking for, and the communication and follow up since has been wonderful. Looking forward to working together on more projects.
Steve Rosenberg and his team have done our mailings for years. They are easy to work with, dependable, flexible and very reliable.
As a rabbi in a congregation that sends out multiple mailings each year, I have been extremely satisfied with the service that Steve has provided for us. We know that we can count on him to get the job done quickly and at a very reasonable price, as he's done time and time again.